updated 1:17 PM EST, Fri February 8, 2013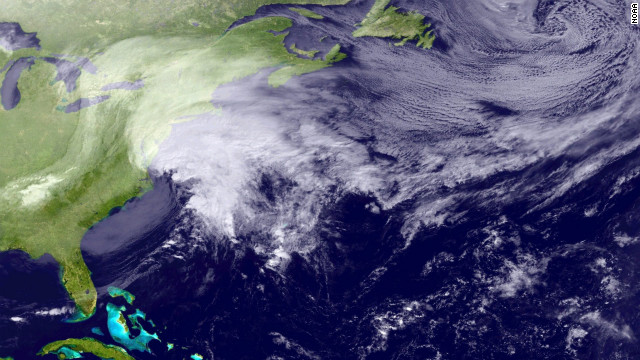 A satellite image released by the National Oceanic & Atmospheric Administration on Friday, February 8, shows a large storm over the northeastern United States. Blizzard and winter storm warnings are in effect for most of the area, with the storm expected to dump between 24 and 36 inches (60-90 centimeters) of snow over the next 36 hours.
Northeast blizzard
STORY HIGHLIGHTS
NEW: Massachusetts, Rhode Island, Connecticut governors declare states of emergency
NEW: Social media is abuzz with news of the approaching storm
NEW: All cars and trucks, except emergency vehicles, must be off Massachusetts roads by 4 p.m.
More than 3,500 flights have been canceled
Are you in the blizzard's path? Send your time-lapse videos and photographs to CNN iReport, but stay safe.
New York (CNN)
-- A potentially historic winter storm closed in on New England on Friday, with tens of millions of people in its path and already a trail of thousands of canceled flights.
The latest forecast suggests that the worst of the weather could hit Boston, from about 5 p.m. Friday until Saturday morning, and bring in just under 2 feet of snow. All cars and trucks, except emergency vehicles, must be off Massachusetts roads by 4 p.m.
Light to moderate accumulations will continue through Saturday evening, as two storm systems converge across the Northeast and spawn travel headaches for a large swath of the country.
In New York, the heaviest snowfall is expected to start falling at 7 p.m. Friday, with accumulations of up to about a foot.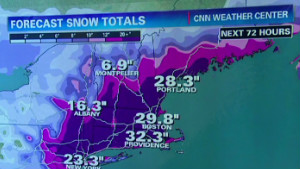 Northeast braces for 'historic' blizzard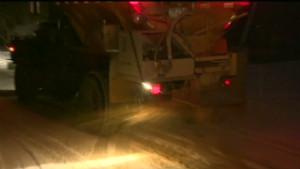 Massachusetts braces for winter storm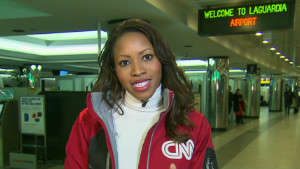 Monster storm creates air travel havoc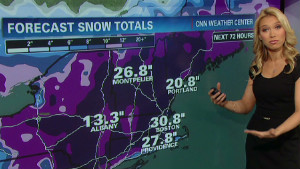 Blizzard could wallop East Coast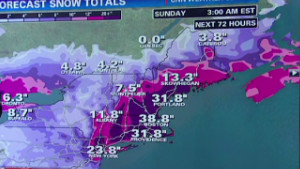 New York, Boston brace for blizzard
High winds could also stir up trouble at sea and push flood waters up and over New England coastlines.
"It's going to be one of the strongest winter storms we've seen in a very long time," CNN meteorologist Pedram Javaheri said.