| | | |
| --- | --- | --- |
| They came from outer space--and you can have one! Genuine meteorites are now on sale in the Space Weather Store. | | |
DOUBLE ERUPTION (UPDATED):
Sunspot AR1667 erupted this morning (Feb. 6th @ 00:21 UT), producing a
double-peaked
C9-class
solar flare that lasted more than ten hours from beginning to end. The slowly-unfolding explosion also hurled two CMEs into space. The clouds are not heading directly for Earth, but they could deliver glancing blows to our planet's magnetic field on Feb. 9-10. High-latitude sky watchers should be alert for auroras this weekend.
Solar flare alerts:
text
,
voice
.
Click to view a full-disk movie of the eruption recorded by NASA's Solar Dynamics Observatory: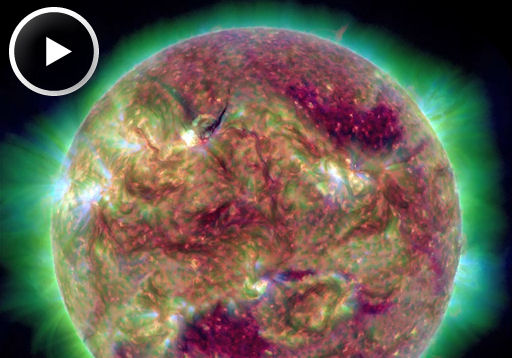 A
close-up of the blast site
shows an inky-dark plume of plasma spiralling away from the explosion. The darkness of the material is a sign that it was extra-dense and cool relative to the surrounding atmosphere of the sun.
LOUD SOLAR RADIO BURST:
Last Saturday, Feb. 2nd, the solar activity forecast called for "quiet." In fact, says amateur radio astronomer Thomas Ashcraft, "it was really loud. There were several strong solar radio emissions including one super-strong
Type III burst
at 1954 UT. I captured it at 28 MHz and 21.1 MHz as it totally drowned out a shortwave voice transmission." Click to listen: