After last Season's Brutality, many Preppers and #OffGridders are turning to Wood as a renewable, reliable Off Grid Heating and Power source.

We caught the following from Survivopedia about ideas for the use for the ash that builds up.

Stay Safe.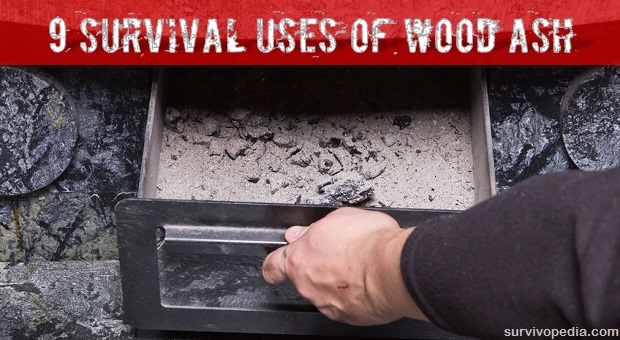 If you're going to be burning wood, you're going to have a ton (maybe literally!) of ash by the end of the winter, so what on earth are you going to do with it all? Re-use it, that's what! There are a ton of uses for wood ash, and we're going to touch on a few of those today.
Wood ash is extremely alkaline and contains potassium (potash) and calcium, which makes it great for several different purposes around the farm. It also likely contains sulfur, phosphorus, sodium, zinc, manganese, iron, copper, cobalt, magnesium and molybdenum, all of which are great for your plants depending upon your type of soil. That's just the tip of the iceberg though. Let's talk ash!
1. Tanning Hides
If you've ventured into the land of tanning at all, you probably know that brains are a common method for naturally tanning the hide into water-resistant, durable leather. However, the brains take forever to get the job done if you don't break down the natural mucopolysaccharides, called ground substance, that protect the hide.
The 
Native Americans
 had this method down, and guess what does the trick! Yup, wood ash and water. Just soak it for 2-4 days and you'll only have to brain-tan it once.
2. Natural Camouflage
This is kind of a no-brainer but there may come a time when you just don't want to be seen. You may be hunting or you may be waiting for human predators to invade your space. Whatever the reason, wood ash is a quick, natural camouflage.
On a similar note, sunburn can be lethal and if you don't have any sunscreen, rub wood ash on your skin to block the sun's rays.
3. Enriching the Soil
Wood ash is great for certain types of soil, specifically soil that is overly acidic. This includes many of the sandier soils in places such as Florida. Almost without fail, alkaline-loving plants such as onions, garlic and leeks will flourish if you add a bit of wood ash to the soil around them.