The explosion produced a bright coronal mass ejection: movie. The cloud should miss Earth.
Although the explosion occurred on the other side of the sun's western limb, our planet could feel some effects. The blast site is magnetically connected to Earth by backward-spiralling lines of magnetic force. Protons accelerated by the flare are being guided to us by those lines of magnetism, and a mild radiation storm is underway.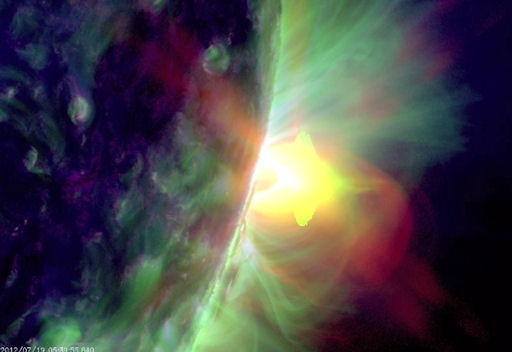 Sunspot complex AR1520-1521 erupted again on July 19th, this time producing an M7-class solar flare that almost crossed the threshold into X-territory. NASA's Solar Dynamics Observatory recorded the extreme ultraviolet flash.
Wednesday, March 27, 2013
NebShip Shop
Welcome to

NebShip Shop

.
We invite you to browse through our store and shop with confidence. We invite you to create an account with us if you like, or shop as a guest. Either way, your shopping cart will be active until you leave the store.
Thank you for visiting.
Subscribe
Knowledge Partnership Education
Madtown Preppers Alerts are for informational use only. These alerts purpose is to inform you of news events in order for you to adjust your family preparedness programs. We believe that knowledge is power and in order for you to make informed decisions, we try and bring you verified information, not to increase fear but to inform you. We do not endorse any of the sources we link to in any article.
http://store.nebudchenezzarshipworks.com/