We have seen Conspiracy Theory type stories all over the Web for years.
Many streams talk about the RFID Chip as something Fictionalized, Scare Tactics, Tin Foil Hat stuff.
Sadly no. The Chip is Real.
Very.
At this point in the series When Drones Attack, we have covered many different subjects that mostly include the Powers .... Be have for Monitoring and Control the Citizenry.
Well, Now it is up to You.
Are you going to take the Blue Pill or the Red Pill:
That is the question you Must ask Yourself.
Choice.
-MP
IBM RFID Commercial - The Future Market - YouTube
Update: 11.10.2012
Students who refuse tracking reportedly can't vote for homecoming.
The Student Locator Project, which launched on Oct 1. at a San Antonio high school and middle school and could be extended to as many as 112 schools, tracks student whereabouts using embedded RFID (radio-frequency identification) chips on student ID badges.
PC World
reports:
"Unlike passive chips that transmit data only when scanned by a reader, these chips have batteries and broadcast a constant signal so they can track students' exact locations on school property, down to where they're sitting—whether it's at a desk, in a counselor's office, or on the toilet."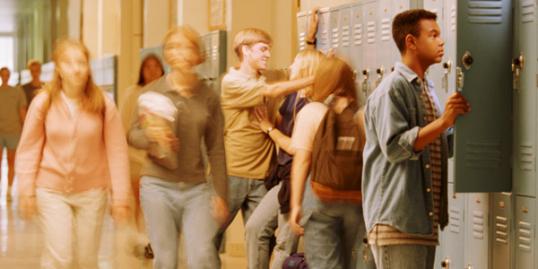 Some parents and students are reported to have protested the program and at least a few students are refusing to wear the badges, which are required to be worn around their necks.
The students essentially need their badges with them at all times since they are necessary to perform ordinary student functions like access the library or cafeteria and participate in any extracurricular activities – such as voting for homecoming king and queen.
"I had a teacher tell me I would not be allowed to vote because I did not have the proper voter ID," one student told
WND
. "I had my old student ID card which they originally told us would be good for the entire four years we were in school. He said I needed the new ID with the chip in order to vote."
Bing: Read more news coverage about the controversy.
The district says the program is necessary to improve safety and track the number of students who attend the schools, which reportedly have high truancy rates.
MySanAntonio.com
reports the pilot program will cost about $525,000 and another $136,000 a year to operate.
Tell us on Facebook: Do you think the school district has gone too far?
Photo: Barros & Barros/Getty Images

Book of Face Streams:
Just in Time for XMas! Comes with Free RFID Chip!
Nebudchenezzar Shipworks

MO CHIP (Missouri Child Identification Program) is a real organization with a real website that has a very prominently placed Freemason symbol in all of its logos. Check out their site. Can't make this stuff up. :( ~GameChanger


http://www.mochip.org/

MOCHIP.ORG. Official home of the Missouri Childrens Identification and Protection Program sponsored by the Grand Lodge of Missouri, A.F.& A.M.

More Tracking for your little ones. Thought you didn't need the Chip, well.......




AFP Photo/Philippe Marle

A school district in Texas came under fire earlier this year when it announced that it would require students to wear microchip-embedded ID cards at all times. Now students who refuse to be monitored say they are feeling the repercussions.

Since October 1, students at John Jay High School and Anson Jones Middle School in San Antonia, Texas have been asked to attend class clasping onto photo ID cards equipped with radio-frequency identification

chips

to keep track of each and every pupil's personal location. Educators insist that the endeavor is being rolled out in Texas to relax the rampant truancy rates devastating the state's school and the subsequent funding they are failing to receive as a result, and pending the program's success the RFID chips could soon come to 112 schools in all and affect nearly 100,000 students.

Some pupils say they are already seeing the impact, though, and it's not one they are very anxious to experience. Students who refuse to walk the schoolhouse halls with a location-sensitive sensor in their pocket or around their neck are being tormented by instructors and being barred from participating in certain school-wide functions, with some saying they are even being turned away from common areas like cafeterias and libraries.

Andrea Hernandez, a sophomore at John Jay, says educators have ignored her pleas to have her privacy respected and have told her she can't participate in school elections if she doesn't submit to the tracking program.

To Salon, Hernandez says subjecting herself to constant monitoring by way of wearing a RFID chip is comparable to clothing herself in the

"mark of the beast."

When she reached out to WND.com to reveal the school's response, though, she told them that she was threatened with exclusion from picking a homecoming king and queen for not adhering to the rules.

"I had a teacher tell me I would not be allowed to vote because I did not have the proper voter ID,"

Hernandez told WND. "

I had my old student ID card which they originally told us would be good for the entire four years we were in school. He said I needed the new ID with the chip in order to vote."

Even after Hernandez politely refused to wear an RFID chip, Deputy Superintendent Ray Galindo offered a statement that suggests that both the student's religious and civil liberty-anchored arguments will only allow her some leeway for so long.

"We are simply asking your daughter to wear an ID badge as every other student and adult on the Jay campus is asked to do,"

Galindo wrote to the girl's parents, WND reports. If she is allowed to forego the tracking now, he continued, it could only be a matter of time before the school signs off on making location-monitoring mandatory and the repercussions will be more than just revoking voting rights for homecoming contests.

"I urge you to accept this solution so that your child's instructional program will not be affected. As we discussed, there will be consequences for refusal to wear an ID card as we begin to move forward with full implementation,"

Galindo continued.

The girl's father, Steve Hernandez, tells WND that the school has been somewhat willing to work with the daughter's demands, but insists that her family

"would have to agree to stop criticizing the program"

and start publically supporting it.

"I told him that was unacceptable because it would imply an endorsement of the district's policy and my daughter and I should not have to give up our constitutional rights to speak out against a program that we feel is wrong,"

Mr. Hernandez responded.

By reversing the poor attendance figures, the Northside Independent School District is expected to collect upwards of $2 million in state funding, with the program itself costing around one-quarter of that to roll out and another $136,005 annually to keep it up and running. The savings the school stands to make in the long run won't necessarily negate the other damages that could arise: Heather Fazio, of Texans for Accountable Government tells WND that for $30 she filed a Freedom of Information Act request and received the names and addresses of every student in the school district.

"Using this information along with an RFID reader means a predator could use this information to determine if the student is at home and then track them wherever they go. These chips are always broadcasting so anyone with a reader can track them anywhere,"

she says.

Kirsten Bokenkamp of the ACLU told the San Antonio Express-News earlier this year that her organization was expecting to challenge the board's decision this to roll out the tracking system, but the school has since gone ahead anyway. Steve Hernandez tells WND that he approached the ACLU for possible representation in his daughter's case, but Rebecca Robertson of a local branch of the organization said,

"the ACLU of Texas will not be able to represent you or your daughter in this matter,"

saying his daughter's case in particular fails to meet the criteria they use to pick and choose civil liberties cases to take on.




DHS spends $1.4 Billion Dollars to Spy on American Public through Fusion Centers

report

from the Senate Homeland Security and Government Affairs Committee titled, "Federal Support for and involvement in State and Local Fusion Centers", the Department of Homeland Security (DHS) has spent over 1.4 billion dollars spying on the American public. The report looks into the 77 Homeland Fusion Centers that have been launched since 2003.




What are Fusion Centers?

In the aftermath of 9/11, The Department of Homeland Security, in partnership with the U.S. Department of Justice, setup these so called "Fusion Centers" as a way to track Terrorist activities within the United States.

According to DHS, these Fusion Centers

"serve as focal points within the state and local environment for the receipt, analysis, gathering, and sharing of threat-related information between the federal government and state, local, tribal, territorial (SLTT) and private sector partners."
"Fusion centers are owned and operated by state and local entities with support from federal partners in the form of deployed personnel, training, technical assistance, exercise support, security clearances, connectivity to federal systems, technology, and grant funding."

Tracking Terrorist Activity or Spying on American Citizens?

According to the Senate Homeland Security and Government Affairs Committee report, these fusion centers have found "no reporting which uncovered a terrorist threat, nor could it identify a contribution such fusion center reporting made to disrupt an active terrorist plot."

In fact, the report goes on to show that what these Fusion Centers have excelled at, is spying on the American Public. From detailed accounts of DHS officials spying on everyone from fisherman and religious groups to numerous examples of Fusion Centers collecting and maintaining information on U.S. citizens who were not part of a criminal investigation, the report highlights a disturbing amount of Constitutional and civil liberty violations.

What about those dangerous Fishermen?

In one example of how pervasive – and completely idiotic - this culture of spying has become, the committee highlights a case where DHS officials actually followed, and then wrote a report on people fishing in a body of water on the U.S.-Mexico border. Apparently these fishermen were suspicious because as the DHS official put it, "it is unusual to fish at that location based on the depth of the reservoir. Additionally, there were high winds and choppy waters at that time."

That's right; tax payer money spent to investigate people fishing is a reservoir. You really can't make this stuff up!




Targeting Ron Paul Supporters, Third Party Candidates & Patriotic Americans?




In a study from the Missouri Information Analysis Center (MIAC) titled, "MIAC Strategic Report: The Modern Militia Movement.", the Missouri Fusion Center detailed how to spot and identify dangerous homegrown terrorists. Their analysis suggested that officers look out for people who opposed things like; Gun Control, the violation of Posse Comitatus, abortion, Illegal Immigration and a number of other "right-wing" political ideologies.

It went on to say that these homegrown threats often associate with 3rd party political groups, like the Constitutional Party and Libertarians. It went on to say that many of these people support candidates like Ron Paul.

These Fusion Center reports, and others like it, have been used by DHS, the FBI and a number of other government agencies to justify spying on patriotic Americans. In fact, we've detailed numerous examples in the past, including an FBI news conference where the government actually warned that

survivalists, conspiracy theorists & those who believe in personal liberty were a terrorist threat

to the nation.

There it is.

Choice...