A couple of things happen when you watch for Signs.
A lot of Strange Seismic Events sometimes (most) are Pre-Cursors to Larger Events.
This ALERT is for Information Only.
USGS.com is available to everyone at this time. Use It.
spaceweather.com for Astral Events.
Time to have Eyes/Ears Open.
Stay on your Toes Folks.
-MP
UPDATE: 19.12.2012:
Frost Quake Mechanisms as a Trigger for Major New Madrid Fault Earthquakes:
http://

youtu.be/E-SWMnqdxk8

via @youtube
NEW MADRID PRECURSOR? *ALERT* from RadChick:
A large sinkhole formed today near Dover, Ohio, about 60 miles south of Cleveland. Please look closely at the map. See the red area at approximately 1:00? Its pointing to an area just south of the sinkhole. It is my understanding that *IF* we started seeing sinkholes anywhere along this New Madrid *RED ZONE* that are 3 football fields in size or larger,
it *COULD* signify a strong earthquake within the next few days. This current sinkhole is 4 football fields in size and growing. I don't want to cause any panic, there is NOTHING we can do except BE PREPARED. Make sure you know where your kids are, and that you all have a place to meet...charge all cells/laptops/etc...have some supplies and cash in case you are stuck for a few days.
KNOW IF YOU ARE DOWNWIND OF A NUKE PLANT AND PLAN ACCORDINGLY. Next thing to watch for would be sulfer smells, nervous pets, a "dizzy" feeling from EMF discharges, flashes in the sky (earthquake lights) and rumbling/booming sounds.
And of course, shaking. There was a large sinkhole event yesterday in LA as well, I will post below.
Post any reports/observations/advice here, we will pin this to the top of the page... :/ STAY SAFE.
EDITORS NOTE:
http://beforeitsnews.com/earthquakes/2012/11/massive-sinkhole-still-growing-ohio-4-football-fields-long-30-deep-shuts-down-8-mile-stretch-of-road-2446744.html
Wednesday, November 28, 2012 17:06
Wednesday, November 28, 2012 17:06

Another massive sinkhole has emerged, this time outside of Dover, Ohio. According to WTOV9, emergency crews have been forced to close down an 8-mile stretch along a road in Tuscarawas County because of the rapidly growing monster.
Officials said the sinkhole is 30-feet deep and as long as four football fields, and it's still growing. It takes up about half the roadway.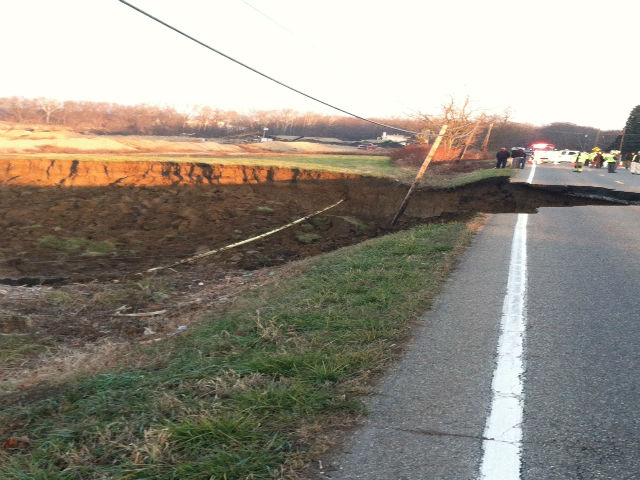 What is the deal with all of the sinkholes recently? An 18′ deep sinkhole (picture below) recently appeared in Pennsylvania, according to this report while yesterday we learned that the massive sinkhole in Assumption Parish Louisiana 'burped', expelling hydrocarbons.
Meanwhile, we learn that illnesses are breaking out across the area near the Louisiana sinkhole as a resident testifies that "every other household has some kind of illness" as the first video below confirms.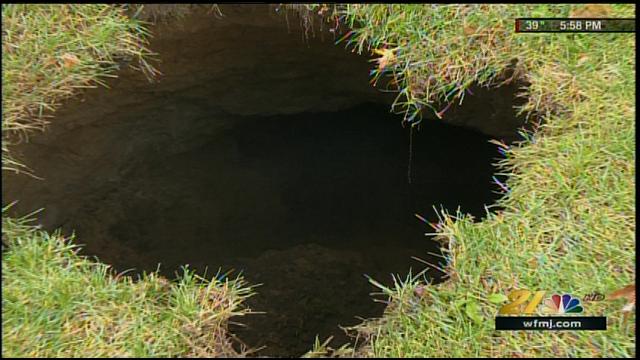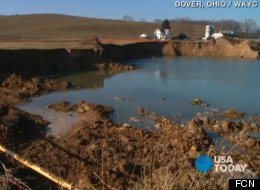 Now that the election is over, things are getting back to normal in Ohio.
It took only a few minutes for
a massive sinkhole
to devour several acres of land and a stretch of State Highway 516 on Wednesday, WHYC reports.
The hole, spanning the area of roughly four football fields, collapsed near a lake where the Newton Asphalt Company has spent years dredging for sand nearly 50 feet below the surface, according to Fox Cleveland.
"I've worked for the [Ohio Department of Transportation District] 16 years and
I've never seen anything of this magnitude
," District 11 Director Lloyd McAdam told First Coast News. "It's very unusual that something like this would happen."
"It appears to me that dredging took away the bottom of the slope," McAdam added, "and that probably eroded away and started cascading down, and just started filling the hole and filling the hole."
Some locals fear that the sinkhole could grow larger.
"I'm not sure what to make of it. I've never seen anything like this before in my life," said Jennifer Smith of Dover, according to Fox Cleveland.
The stretch of highway
remains closed indefinitely
, WTRF reports.
Also on HuffPost:
375' Sea Level Rise
WI Topographical